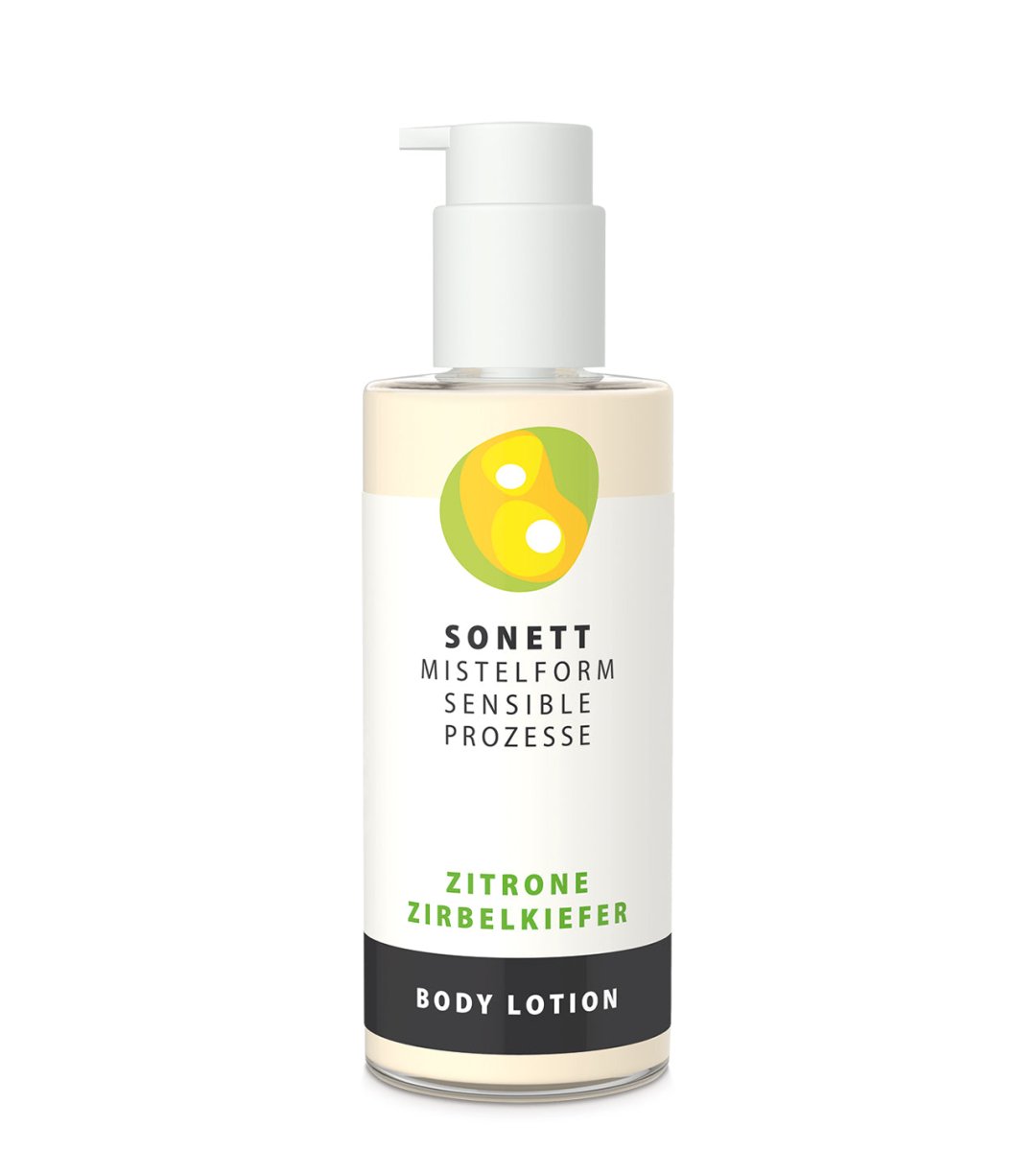 Sonnet® | body lotion | lemon stone pine | 145ml
---
Product description
A body lotion that consists of 100% organically certified raw materials and wild collection is also a real specialty in the organic industry.
The base oil in this lotion is the best organic olive oil. With the help of lecithin, a food emulsifier made from organic soybeans, the watery mistletoe oscillate, the organic alcohol and the olive oil are combined to form a fine emulsion. The emulsion is stabilized and thickened with tara gum from controlled organic cultivation. Tara Gum are the ground seeds of the yellow flowering shrub Caesalpinia spinosa, which belongs to the Patrician family. Our Organic Tara Gum is grown in the Peruvian Andes.
The watery mistletoe oscillator is made from the berries and leaves of fir and apple mistletoe that are harvested in the Deggenhausertal. Details on the method of oscillation can be found here .
The fresh, spicy scent of the body lotion is created by a mixture of essential oils from organic Sicilian lemons, South Tyrolean stone pine oil and organic lemongrass from a social project in Vietnam.
APPLICATION AND DOSAGE
Distributed evenly over the skin, the lotion is quickly absorbed and leaves the skin feeling soft and velvety.
Lemon and stone pine provide powerful and revitalizing support in all situations in which courage, endurance and resilience are needed.
Made from 100% vegetable oils

controlled organic cultivation

With rhythmized mistletoe extract
PRODUCT FEATURE
Nourishing body lotion of the highest organic quality with rhythmic mistletoe extract activates, harmonises and forms a protective cover.
INGREDIENTS
Aqua, olive oil*, mistletoe extract from berries* and leaves*, sensitized in the oscillator, vegetable alcohol (ethanol)*, lecithin*, tara gum*, essential oils from lemon*, lemongrass*, Swiss stone pine*
*from certified organic cultivation / wild collection
INGREDIENTS (INCI)
Aqua, Olea europaea fruit oil*, Viscum album leaf extract*, Viscum album kernel extract*, Alcohol denat.*, Lecithin*, Caesalpina spinosa seeds gum*, Citrus limon peel oil* (contains Limonene*, Linalool*), Cymbopogon flexuosus oil* (contains Citral*), Pinus cembra leaf oil* (contains Limonene*)
*certified organically grown / wild growing plants
Further information on INCI designations ‣
ECO CERTIFICATION
NCS (Natural Cosmetics Standard) CSE (Certified Sustainable Economics)
PACKAGING
Bottle: Glass Cap: PE / PP Labels: PE Product box: 100% recycled material Outer box: 100% recycled material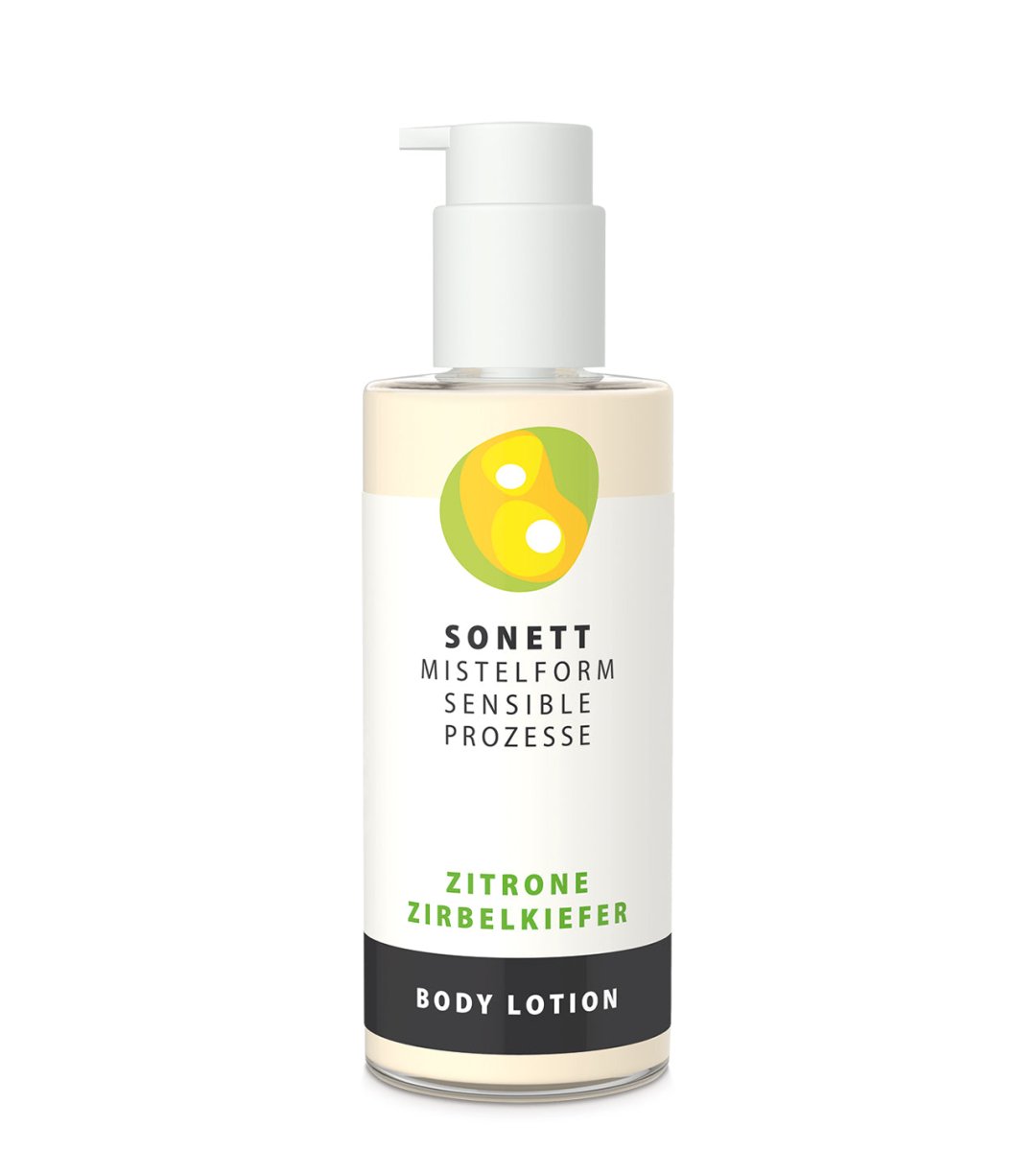 This product has no reviews yet.
Any questions?
Do not hesitate to contact us with questions about products, ingredients, shipping, returns, payment options or our company.
Send us an email